I'm the boss and creator of this site. That makes me a sullen and scary person...
Apart from that: I like to party, but not to dance. I like to play games, but at the moment, I'm pretty bored at it. I like languages, but I'm pretty bad at them, at least when it comes to learning words and spelling.
I have a Facebook account that is [
@fb577212311
] "Henrik Wallin"
I have a general interest in physics. Otherwise I'm more into getting things done without caring much how they are done. History, geography and economics are also big interested. I don't care much about films, books and I just look at arts and poems.
I have studied computer science with directed towards control technology. I accidentally started working with web-server development on
www.roxen.com
(Or what-ever that company is called today) and then started to build these kind of communities.
I can be very charming, but... Sometimes people annoy me and sometimes I annoy them. I don't like when people are being stupid, and I easily get irritated at that often. It's worse when they want to stay ignorant though. And I almost always give people second chances. I know I always need a second chance as I tend to say stupid things when I'm trying to be funny or when girls are involved... (I guess I say stupid things when girls aren't involved too, but then I just don't care.)
I live with Lilo: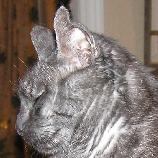 (More images on:
http://elftown.lysator.liu.se/_Free%20to%20use%20Lilo%20images
)
She's a very talky and smart cat, but pretty shy and scared, even though she loves attention.
You can often find me on
Herrgårn
If you want to hear my voice (and learn Swedish), take a look at:
http://elftown.lysator.liu.se/_Svenska%20med%20borgm%C3%A4staren
Sometimes I'm using Slashdot:
http://slashdot.org/~Heddahenrik/
http://slashdot.org/~Heddahenrik
(Thanks, [
kittykittykitty
]!)
Here are a lot of photos. Ordered chronologicall
y (oldest first). If you ask for permission, you're free to use my images for any kind of purpose (I just want to know approximately about it).

cats and more
g3ra19
Suntrip2006
rrussia
ryd_universitetet_hg_bastuviken
t6 (Private wiki-page)
linkoping_rydsskogen
winterlilo
hemma2006-03-23
snöapril
Villaryd 2006-04-07
SeKeLchili 2006 (Not public)

russia62 (Photos from Road trip to Russia #62)

valborg2006
karna
Linköping in May
sommar-x-2006
LinCon2006
Norrkoping-photos
jennyolle
May-pole
Fjärrbussterminalen i Linköping
bus 214
Jelena and Stepas

unfancyad
vaida_lina_livija_anders
LiloPlay

Skaggetorp
Vaida and Lina presents
G3 2006-08-22
svarta2006 (Private page)
Faery arriving
Faery HG (Private page)
Flygvapenmuseumet i Linköping

Kali and Marie
Fortidsrostning i Ryd
esn6 (Private page)

esn7
kaliplay
esn8
VG1

HG1 (Private)
esn9
esn10 (Private page)
vg2 (private page)
20061007
20061007b
esn11
VG3
vg4
autumn mist
autumn day
esn12
vg5
VG6
esn13
vghostmote2006 (Private page)
overoj2006 (Private page)
lilosleep
ESN14 (Private)
swehall (Swedish Halloween, 2006-11-03 at Herrgårn, private page)
vg7
blot2006
esn15
heddateeth
HG20
Ryds Centrum photos
esn16
vg8
ESN17
rullstolsoffer med jättenalle i ögat
Winter night
fireworks
Christmas Parties
filmkväll
christmas lights
esn19
jens2
fat2
Christmas in Linköping
newyear2006
esn20
fre1
esn21
esn22
fre2 (Private page)
esn23
vg9 (Private page)
texmex2007
esn24
esn25
Jens3
esn26
VG10
fri17 (private)
esn27 (private)
wga2007
esn28
esn29
ForDomD 2007
Vin&Tonic caps
DomD2007
DomDfinal 2007
esn30
fre8
Molly
vg11
Agata
Lambo (private page)
Cendio annual meeting 2007
VG12
Julia

fre9
Rome2007
VG13
ESN31
VG14
LinCon2007
herrsittning
Valborg2007 (private)
esn32
Eurovision2007
esn33
SOF2007Thursday
SOF2007Cortege
SOF2007Saturday
VG15
ESN34
SOM
Daniel23 (Private page)
fat3
Lena at the balcony
VG16
ChristinaFlytt
PreMidsummer
midsummer2007
Irrblosset and Dansbanan i Vallaskogen

Medieval Cellarwalk
NateReid
Zhenqi Wu
HGsat1
University and Linköping
Jens4
esn35
VG17
VG18
VG19
HGsat2
picnic2007
esn36
München Hoben 2007
München Hoben 2007 cleaning up
VG20
ESN37
Svarta2007 (Private page)
Svarta2007evening (Private page)
esn38
vg21
esn39
vg22 (Private page)
Rocky Horror Picture Show 2007
Random2007
esn40
vg23
Open Air Café 2007
esn41
vg24
ra11
recce2007
esn42
vg25
sälbastu
esn43
Jun
2007-10-06
esn44
vg26
esn45
vg27
Lotta
Saturday at HG
esn46
G3-skifte2007
RA1
Kajsexa
esn47
vg28
RA11Halloween
WestGoth
esn48
vg29
esn49
KajKarin
esn50
hedda 34
Bk10A
esn51
vg30
Karaoke2007
esn52
vg31
Julfest2007
kaninhoppning slut
esn53
vg32
fat2007
Zhenqi
vg33
Jul2007
NewYear2007
esn54
Christian
esn55
vg34
esn56
esn57
vg35
esn58
esn59
tackfest2008
esn60
vg36
esn61
esn62
pornparty
pornparty3
esn63
Cendio annual meeting 2008
Twinparty
esn64
vg37
glass-stuff
esn65
vg38
esn66
esn67
malta2008
vg39
Saturday2008-04-05
esn68
FörDömD2008
DömD2008
DömDfinal2008
DömDparty2008
esn69
rigakiev2008
Chernobyl2008
Valborg2008
vg40
90s-party
Chernobyl2008Agata
Chernobyl2008Mateusz
Chernobyl2008Moje
esn70
vg41 (Private)
esn71
esn72
vg42
RockSensation
esn73
vg43
vg44 (Eurovision final evening)
esn74 (Last Tuesday spring 2008).
vg45
esn75
fat2008
vg46
ceder inflyttningsfest
vg47
Stockholm2008-06-14
esn76
RydsnäsMidsummer
Bernt65
Ljusdal by night
Jonny
Christian and Julian arriving
Schröders arriving
esn77
esn78
esn79
svarta2008
esn80
esn81
esn82
Kalasmottagningen 2008

vg48
cakes35
hedda35i
www.elfpack.com/_esn83
www.elfpack.com/_vg49 (Ättestupan Thursday 2008-11-27, Pre-Blot evening)
www.elfpack.com/_Blot2008
elftown.eu/_vg50

http://elftown.eu/wiki.html?name=esn86
http://elftown.eu/wiki.html?name=esn87
Newer photos will appear on elftown.eu/hedda and sometimes on www.elfpack.com/hedda
Mixed